Doctors & Staff
Meet the experienced and friendly doctors and staff who make Brennan Eye Care the leading provider of vision care products and services in Okeechobee.
Dr. Christine Brennan Bishop, OD
Dr. Christine Brennan Bishop, a life long resident of Okeechobee, is a graduate of Okeechobee High School. She obtained her undergraduate schooling from Florida Southern College in Lakeland, Florida where she was a member of the sorority Zeta Tau Alpha and graduated from Nova Southeastern College of Optometry, Fort Lauderdale, Florida, in 2008.
Dr. Christine is soft spoken and gentle with her patients and is very adept in fitting contact lenses in patients of all ages and with all prescriptions. While she enjoys all aspects of the optometry field, Dr. Christine is especially interested in performing eye exams on children and ocular diseases. Dr. Christine is very excited about providing quality eye care to the community of Okeechobee with her father, Dr Patrick Brennan.
Dr. Christine Bishop is a devout Christian and enjoys spending time with her family and friends. Her favorite activities are horseback riding, family bar-b-ques, boating, swimming and virtually all outdoor activities. She also likes to be involved in services for her community.
Dr. Christine is married to Hamilton Bishop, a local dairy farmer. They reside in Okeechobee with their daughters, Lila and Lexi Bishop.
---
Dr. J. Patrick Brennan, OD
Dr. Pat Brennan is a Florida Native, he established Brennan Eye Care in Okeechobee, Florida in 1980. He is an undergraduate of Florida State University and received his optometry degree from the University of Houston.
Dr. Pat Brennan is currently the treasurer of the Treasure Coast Optometric Society. Dr. Brennan enjoys fishing, and hunting.
Dr. Brennan is extremely proud of serving the Okeechobee area for almost 30 years and is excited to have his daughter, Dr. Christine Brennan Bishop, to join Brennan Eye Care and follow in his footsteps.
Dr. Brennan is also the 2012 Local Optometric Society Member of the Year!
---
Sheryl – Optician
---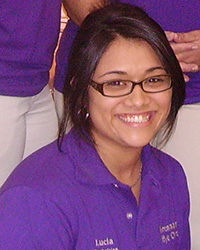 Lucia Gonzalez
Lucia is an optical technician, lab technician and a digital imaging specialist. Lucia has been a great addition to Brennan Eye Care because of her great personalty and her ability to relate and joke with the patients.
Lucia helps us better serve our hispanic population because she is bilingual.
Lucia has one little boy. In Lucia's free time she likes to shop and spend time with her family.
---
Melissa Ellis
Melissa is the billing clerk at Brennan Eye Care, for whom she has worked for 11 years.
Melissa is also self-employed, she does medical transcription for a group of doctors on her spare time, as well as insurance billing at home for other optometrists. However, due to her loyalty and commitment to Brennan Eye Care, she is still here with us.
Melissa is married to Donnie Ellis they have 3 children (2 boys, 1 girl)
---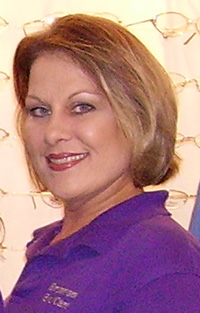 Angel Lomneck
Angel is the receptionist for the office. She has been with Brennan Eye Care for 6 years and greets everyone with a smile or a friendly voice on the phone. She has a bright and energetic personality. When you walk in to our office you will always be greeted with a warm welcome.
Angel is an Okeechobee native. She has 2 teenage children (1 boy, 1 girl). Angel enjoys fishing, sports, and target shooting.
---
Erica
---
Michann
---
Arismel
---
Dhana Striebel- CPOA
Dhana is an optical technician, lab technician, and recently recieved her certification as paraoptometric assistant. She also loves working with all our digital imaging equipment. She travels with Dr. Brennan to all facilities to assist with eye exams. She has been with Brennan Eye Care for 5 years.
Dhana is married to Greg Striebel and has three teenage boys. She also enjoys traveling with her family. Cruising to the islands whenever possible.
---
Crystal